Pride in Workmanship and Service Award 2023

The Rotary Club of Cooroy is pleased to honour local people who consistently give that special extra in their job. The Pride of Workmanship and Service Award is designed to acknowledge employees or business operators, irrespective of age or vocation, who in the eyes of their employer or their customers displays outstanding qualities in terms of approach, attitude, dedication and commitment to his or her job. Also, it recognises their contribution to our community.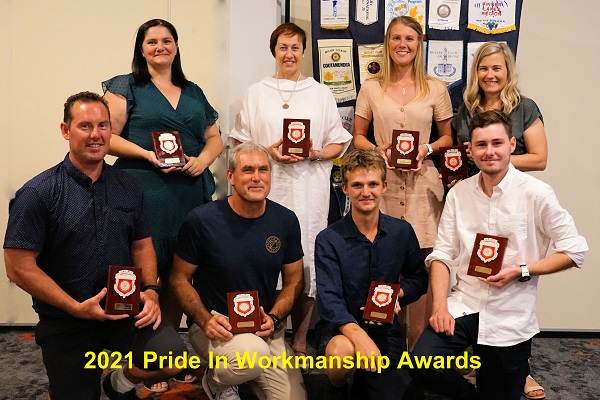 2021 awards were presented to Angel Brant, Cooroy Harvest Fresh - Nina Burkardt, Sunshine Mitre 10 - Carol Christensen, Belvedere Newsagency - Christina Dean, Cooroy Family Practice - Kirsty Farrow, Hear and Say - Luke Grabham, Palm Lake Resort, Cooroy - Bradley Morris, Hintercoast Plumbing and Gas - Andrew Chapman and Hayden Robinson, Andrew's A Grade Mechanical and Jayden Thornton, Supa IGA Cooroy.
The Award is intended to cover all aspects of work performance and ethics, inclusive of quality and quantity of output, customer service, safety, initiative and sense of responsibility.

The Pride of Workmanship and Service Award is not a competition and there are no winners or losers. It is recognition by Rotary, based on a recommendation by an employer or customer, of an individual's achievement, commitment and ability to inspire his/her fellow employees or customers.
The Award objective is to encourage pride in all jobs and vocations; It provides employers and customers with the opportunity to recognise employees who display the qualities worthy of an award and to encourage a sense of community pride in individual achievement
Nominations close on 28 March 2023, with awards to be presented at a Rotary Club of Cooroy hosted dinner on 15 April 2023 at the RSL Club in Cooroy. Award Recipients  FREE