Cooroy Rotary members meet weekly and listen to talks from people from all walks of life. They are involved in local, regional, national and global projects.  These include activities to assist the needy here in Cooroy, Queensland, Australia and abroad, the aged, the provision of disaster relief, teams of skilled personnel to assist in building and reconstruction and involvement in youth training and study exchange programs to name a few.  Select items under the "Activities" menu to sample just some of programs that the Cooroy Rotary Club is involved in.


---
FIRE SAFETY - BLACK MOUNTAIN ROAD



The Rotary Club of Cooroy was pleased to support the residents of Black Mountain at a bush fire safety presentation on Sunday. Since a landslide closed Black Mountain Road, the time taken for emergency response increased from 7 minutes to 26 minutes
The Queensland Rural Fire Service provided advice and guidance on all aspects of personal and property safety in the event of a bush fire.
Cooroy Rotary with the support of Noosa Council have already provides a defibrillator for the use of Black Mountain residents.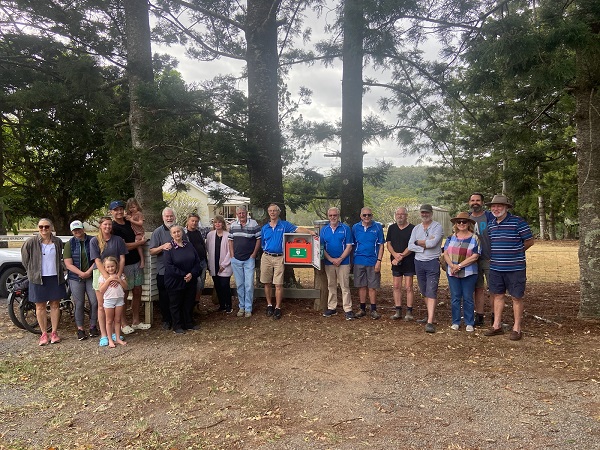 ---
Rotary Partners with Bendigo Bank Branches to Combat Malaria.


Every five minutes somewhere in the world, a child dies from malaria.
The Rotary Club of Cooroy in collaboration with our local Bendigo Bank Branches provide unique donation boxes to accept foreign and local currency, with proceeds supporting Griffith University in Queensland's research to develop a malaria vaccine.
There are no administrative costs beyond standard currency exchange fees, thanks to the dedicated work of Rotary and volunteers.
Please check around your home for any unused foreign currency and consider visiting your local Bendigo Bank Branch to support Rotary's mission to Create Hope in the World.
---
END POLIO NOW



Make Polio History - one of the biggest wins for humanity. We've reduced cases by 99.9% since 1988. There is no cure, but polio is preventable with a vaccine. Just 2 polio drops can make a world of difference in the life of a child.

Unless we eradicate polio, within 10 years, as many as 200,000 new cases could occur around the world each year. In the past few years, only two countries have reported cases of polio caused by the wild virus, but no child anywhere is safe until we've vaccinated every child.

Every little helps, and the Rotary Club of Cooroy has donated $1,000 this year to obtain the vaccines, transport, and personnel needed in the fight to 
#EndPolioNow

.