COOROY MOUNTAIN SPRING FESTIVAL
6.30 am - 3.00 pm Sunday 18 AUGUST 2019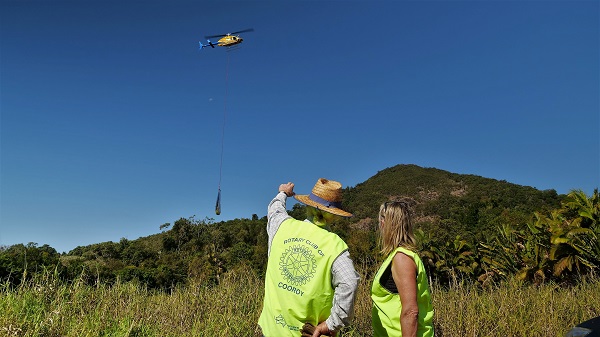 The once a year opportunity to climb Cooroy Mountain courtesy of Peter Lavin and Cooroy Spring Water
Almost $30,000 was raised for good causes from the Cooroy Mountain Spring Festival 2018
 
Over 2,000 people climbed the mountain to enjoy the spectacular views. The Club has donated $15,000 to Sunshine Butterflies, the disability support group based in Tewantin. In addition, $1,000 was given to the Cooroy SES who provided support on the day and $500 to both the Cooroy Memorial Hall and the Black Mountain Rural Fire brigade
Members of the Rotary Interact Club at the Noosa District High School received $500 for their assistance with the car parking. These young citizens allocated the funds to the Tewantin tennis club to go towards new lights and to the Noosa Touch Club Association towards new sporting gear for local teams.
The Rotary Club of Cooroy was honoured to contribute $11,675.20 to the Rotary Drought Assistance on behalf of the people who supported our Helicopter Ball Drop at the Festival. This amount included additional donations received from residents at the Cooroy Rotary sausage sizzle outside our local IGA, donations of more than $1,000 from the residents of Palm Lake Resort and almost $2,500 from the customers and management of the Pomona Pub.
The Rotary Club of Cooroy should like to thank the 76 volunteers including members from the Rotary Club of Eumundi, The Cooroy Golf Club, Cooroy Memorial Hall, family and friends who assisted on the day and made the event such a success.
The Club should also like to thank Peter Lavin from Cooroy Mountain Spring Water/Wimmers who granted access to the Mountain and to McDermott Aviation for the helicopter that provided flights and the charity ball drop. Other sponsors include Madill Motor Group, Hinternoosa Real Estate, Greenwood Grove, Aaction Traffic, Mowers and ATV Cooroy, Raine and Horne Cooroy, the Noosa District Concert Band, Pineapple Crush Ukulele Band, Bush Poet Barry Beck and the Cooroy Chamber of Commerce without whose support we could not have run the event.


A big THANK YOU to everyone who came and supported the Festival, in the region of 2,000 visitors attended and almost $40,000 gross has been raised before expenses. We will announce the final total distributed as soon as the accounts are finalised.

Feeling Lucky? - $2,000 First prize in the Rotary Club of Cooroy - Cooroy Mountain Spring Festival helicopter ball drop. Up to 10 cash prizes to be won. Net proceeds to good causes with Rotary linking with the National Farmers Federation and Channel 9 to help our drought-stricken Farmers
COOROY MOUNTAIN SPRING WATER - MCDERMOTT AVIATION -
MADILL MOTOR GROUP - GREENWOOD GROVE
RAINE AND HORNE COOROY - AACTION TRAFFIC - 
MOWERS AND ATV - HINTERNOOSA
COOROY RAG
NET PROCEEDS TO GOOD CAUSES WITH SUNSHINE BUTTERFLIES DISABILITY SUPPORT and ROTARY - NATIONAL FARMERS FEDERATION DROUGHT APPEAL AS MAIN BENEFICIARIES